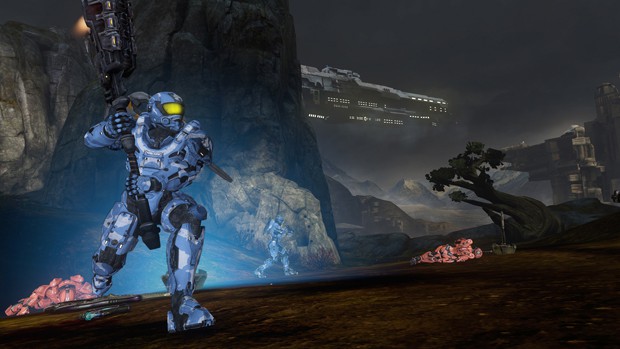 Halo 4 Castle Map Pack DLC videos offer insider info on new maps
The Halo Waypoint blog has released a series of strategy videos for the upcoming Halo 4 Castle Map Pack. The videos offer some insider developer knowledge on each of the three new maps – Daybreak, Perdition, and Outcast. Seeing as though the Castle Map Pack add-on is coming to Xbox Live on 8 April – yes, that's tomorrow – we thought you might want to do some all-important research ahead of download day, so you can find all the videos and map descriptions below.
Daybreak
Operation: DAYBREAK is a cluster of research facilities residing in the scenic highlands on the planet Oban. The map itself is comprised of two such UNSC facilities opposing each other in this large asymmetrical map. Strategy here is key; teams must split focus between attacking the enemy base while playing close defense to their own. Claim your team's sniper rifle to cover the central Man Cannon, or grab a Warthog to push through the side channels and flank the other team's base. The Rocket Launcher and Banshee both spawn in strategic positions as well. On Daybreak, claiming early power is essential to landing the first flag or taking an early lead.
Perdition
New Carthage has always been a shining example of a healthy, growing colony –but hidden below the sky-high city of Pilvrosis this dangerous secret: one of the reactors is failing, and the entire city is now under evacuation. This large urban and industrial environment offers an up-close-and-personal view of the stunning yet unstable reactor and provides multiple vehicles, long sightlines, and close quarters combat, catering to nearly any gameplay style.
Wheelmen and gunners will be right at home as a well-placed Warthog can lock down a quarter of the asymmetrical map, securing valuable ordnance for the team. Learning the interior routes is essential to both escaping danger and staging ranged kills. Be sure to look for the Gravity Hammer in Power Station 3, our team's favorite revenge weapon against a pesky sniper or a big surprise for an enemy Warthog.
Outcast
Set in a desert cliff environment, Outcast is a fortified network of rebel facilities hidden in one of Talitsa's remote and harsh territories. This is why you can expect the medium-sized labrynthine map to be a treasure-chest of explosive, four wheel (and flying)-fueled battle. Controlling vehicle paths is critical in the circular map. As Outcast features frequent Mantis vs. Wraith battles, teams must keep their drivers informed with constant communication to get the drop on enemy movement. While driving the Mantis, target fusion coils in tunnels to flush out camping opponents, or cover your flag runner's dash to a friendly Warthog.
In addition to the three new maps, the Castle Map Pack also offers a new 6 vs. 6 playlist, and nine new Achievements worth 250 Gamerscore. The pack is priced 800MSP (£6.85 / €9.60 / $10.00), although anyone who purchased the War Games Map Pass won't have to pay a single additional bean.