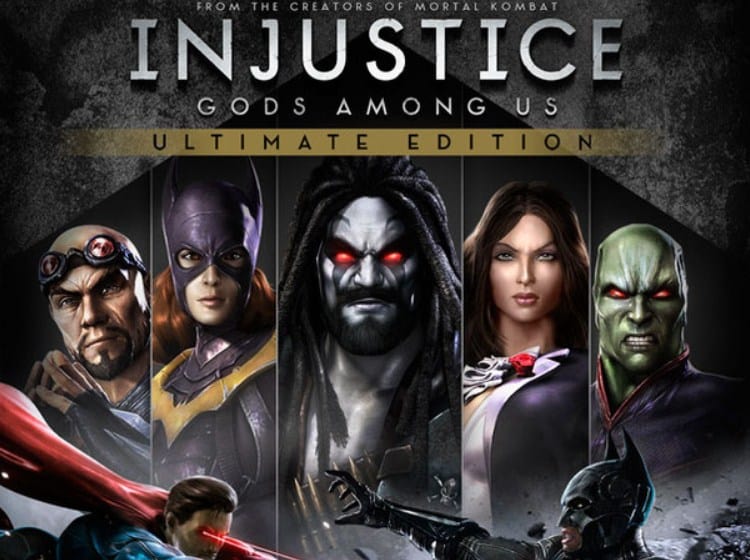 Injustice: Gods Among Us – Exclusive Q&A with NetherRealm Studios
Developer talks DLC, Scorpion complaints, and how extra content is driven by the fans
Injustice: Gods Among Us DLC is always surrounded by lively speculation, fevered anticipation, and consistently divides opinion amongst its players and fan-base. To find out a little more about the work that goes into creating the extra content, how much planning is behind its DLC schedule, and if managing fan disappointment is a headache, we fired some questions to Adam Urbano, senior producer at Injustice developer NetherRealm Studios. And he replied with answers…
DLCentral: Is a second Injustice DLC Season Pass a possibility?
Adam Urbano: Probably not. Additional DLC content after the four included in the Season Pass is driven entirely by our fans – for instance, we decided to add Martian Manhunter only after there was such a huge number of requests to see him added. Similarly, the DLC S.T.A.R. Labs missions were never envisioned when we created the season pass, so we had to do a bunch of technical work to figure out how to get them to Season Pass holders for free as a nice bonus surprise. We want to stay flexible so we can respond to fan requests like these going forward rather than pre-committing to a specific set of DLC.
With the entire DC Comics Universe to choose from, you could conceivably keep producing new Injustice DLC for a long time – but at what point do you stop? As a studio, is there a self-imposed cut-off to focus on other projects, or do you keep making DLC for as long as gamers are buying it?
The honest answer to this question is that we're still figuring it out ourselves. We obviously have a great deal of passion for Injustice: Gods Among Us, and we'd like to keep making content for it forever, but we're also working on a bunch of really, really exciting new projects, and so we have to constantly evaluate where specific people on the team are needed. If you would have asked me this question a couple of months ago, I'd have said our cut-off was absolutely, positively after four chacters – so at this point I have no idea what my answer will be in another couple of months.
Could you give us an idea of how much work is involved in creating each new character?
Each character in Injustice: Gods Among Us ends up involving dozens of team members for about two to three months. They start with concept after concept until we are happy with the look, then the character artists go to work for well over a month crafting the pain-staking detail into the models. There are hundreds of custom animations for each character, and months of design work, testing, and balancing.
Each intro, victory, supermove, and clash is a monumental effort involving people from every discipline on the team; Cinematic artists, facial riggers, animators, FX and audio artists, environment artists for the custom scenes, modelers to create props, and designers and programmers to bring it all together.
Then there are all the 'little' details that we put in to make each character special, such as custom super-meters and player select art, per-character dialogue for various combinations of opponents, and even custom combat damage for every single model and skin!
How pre-planned is the Injustice DLC? In terms of what characters and skin packs you release is there a set-in-stone schedule, or are you deciding as you go along?
While some content has to be planned, the team tries to cram as much content as possible into the retail game – often right up until literally the last possible moment. Only after the game has submitted for release do we actually do any real planning of DLC content.
Were you surprised by the complaints from some Season Pass holders unhappy about the inclusion of Scorpion as one of the four character add-ons?
Not particularly. There was certainly quite a lot of discussion in the studio. With so many great characters to choose from, it is always hard to land on a final choice for a precious roster slot. That said, once Jim Lee offered to design the Injustice: Gods Among Us version of Scorpion, the decision was a no-brainer. Characters in the game are NetherRealm's interpretation of DC Comics characters – so having someone with such amazing talent do his interpretation of a NetherRealm character was a once-in-a-lifetime chance.
Scorpion was the third character to be offered as part of the Season Pass, but the first to be offered to Season Pass holders exclusively a week before non-Season Pass holders were given access – why was that? Is this early-access for Season Pass holders something you'll be continuing with for future DLC releases?
In the case of Scorpion, a rather awesome 'aligning of the stars' happened in terms of timing which allowed us to make him available early to Season Pass holders. We certainly love the idea of giving Season Pass holders more benefits like this, which is obviously why we did it for Scorpion. Unfortunately, there are some technical production issues that make it very hard for us to do this consistently without introducing unnecessary delay in terms of when players can get the content, and we're far too excited to see everyone's reaction to new content to be able to wait even an extra minute. We definitely plan to explore the option going forward.
Will the winner of the completely unofficial character poll be turned into DLC? Do you enjoy being a big tease?
If I said yes, I'd ruin the chance to be a tease. 
It seems no matter which new character you choose as DLC, there are always plenty of unhappy fans who think character X, Y or Z would be a better choice. In terms of managing fan disappointment, does working with such a popular licence as DC Comics actually give you more of a headache?
We are blessed to have very passionate fans of all of our games. In terms of the video game industry, Mortal Kombat has been around for a very long time, and the roster has contained a huge number of characters over the years, so we also see a ton of debate over roster selection in Mortal Kombat as well. That said, the list of DC Comic characters is filled with hundreds of amazing heroes and villains, and fans have been following their favorite ones long before Ed Boon was even born, so it is especially difficult to select the limited numbers to fill that precious roster. Undoubtedly, there are going to be some favorite characters that have to be left out – or else the game would take decades to finish!
For both Mortal Kombat and Injustice: Gods Among Us, it is a great 'problem' to have. One of the things the studio is really proud of is creating and using characters that actually have backstories and depth rather than cookie-cutter, interchangeable archetypes. It is incredibly rewarding to see our fighting games have such lively debate over character rosters not solely due to their mechanics, but also their backstory and visual aesthetics.
The next piece of Injustice: Gods Among Us DLC is still wrapped carefully in secrecy, and shielded by some fairly baffling clues. However, we've used logic to identify who we think is going to be the next new fighter coming to the Injustice line-up – read all about it here. For more information on Injustice: Gods Among Us DLC, feel free to browse our extensive archive.