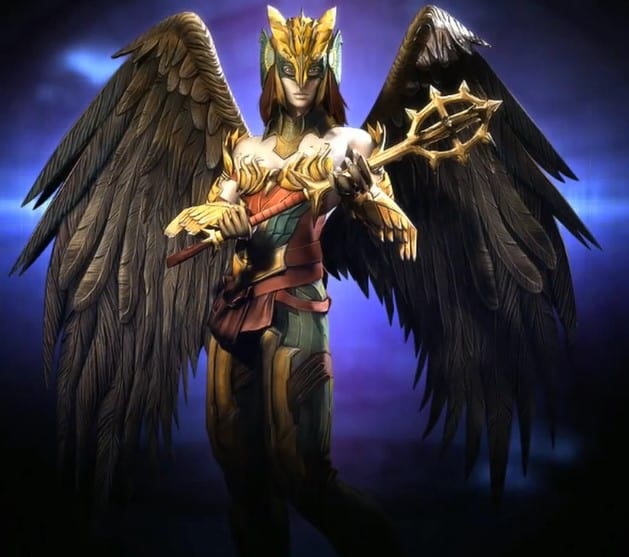 Injustice: Gods Among Us final DLC skin reveal of the week is Hawkgirl
UPDATE: It's now been confirmed that the second skin pack coming next week will be the New 52 pack – full details here
The last of four promised Injustice: Gods Among Us DLC skin reveals for this week has now been released, and it's everyone's favourite winged woman with a mace – Hawkgirl. She's been given a Blackest Night makeover, and the skin will be released next week, 2 July, as part of the Blackest Night Pack 2. Here's the first screenshot of the superhero sporting her new costume:
If you've been following the week of Injustice reveals you'll know that Hawkgirl joins Solomon Grundy, Wonder Woman, and Aquaman as the latest characters to be given new fighting threads. Check out each of the other three new skins revealed this week:
Next week is another busy one for Injustice fans, with the fourth DLC character, General Zod, arriving on Tuesday, 2 July, along with a Superman 'Man of Steel' skin, and the Blackest Night Pack 2 bundle of skins, which we now know will include Hawkgirl and Aquaman, leaving one mystery Blackest Night skin still to be revealed (although we're guessing Green Lantern).
All previous character DLC releases have been accompanied with two skin packs, and it's already been confirmed that General Zod will be launching alongside 'multiple skin packs', but we still don't know what the second skin pack will be [UPDATE: It's been confirmed that the second skin pack coming next week will be the New 52 pack – full details here]. We were hoping today's skin reveal would also confirm the other skin pack, but unfortunately not. So we guess we'll just have to wait. It'll be like a surprise.
We feel modestly obliged to point out that we called all four of this week's skin reveals correctly based on the teaser image. We could say we're good. Real good. But we won't. We'll let you do that. Thanks.